New quests and rewards in WoW: Warlords of Draenor
Draenor in World of Warcraft is wild and dangerous – you must progress with care. And thats why rewards will be much more significant. In addition to classic quests in Warlords of Draenor expansion there will be a lot more tasks based on exploration. Also, developers decided to spice up sometimes dull and boring quests with the chance of better rewards – it may be either Rare or Epic.
Thank to new quest tracking interface in WoW you can easily tell which quests are part of main storyline and are mandatory, and which you can easily skip right now and complete them later.
Faction which you're fighting for will determine the starting zone on the continent. If you're Alliance you will start at Karabor, Shadowmoon Valley. For the Horde its Bladespire Fortress, Frostfire Ridge.
New locations Warlords of Draenor
Each faction has its path laid near the camp of their enemy in Tanaar jungles. You and your allies must gather all strength and will to not allow the Iron Horde to go through the Dark Portal. If they succeed – Azeroth once again will face its doom and ruination.
On your path you will face greatest warchiefs, such as Grommash Hellscream and Killrog Deadeye. Their armies count thousands of thousands well-trained orcs ready to rush into the heat of battle at any moment. But you're not alone! Brave warriors under Maraads command will come to aid Alliance from the Dark Portal. And Thrall himself will fight for the Horde and their armed to the teeth army.
After you manage to close Dark Portal, but not for long – paths of Alliance and Horde diverge for the moment and each one will search for new allies for war with the Iron Horde.
Karabor, Shadowmoon Valley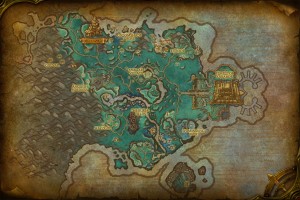 After dealing with Dark Portal, heroes of Alliance will depart to Karabor, to find new allies for war with the Iron Horde. When you do, you'll have to defend the sacred temple of draenei to establish a safe fortress for the Alliance. While defending the temple from the Iron Horde, Ner'Zhul with his army of orcs from Shadowmoon Valley attacks from another side, stay alert! A failure can cost you the whole world.
Bladespire Fortress, Frostfire Ridge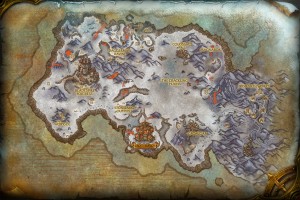 Path of the Horde will lead to Frosfire Ridge, where you have to find a way to get support from Frostwolf Clan. Ogres from Bladespire Fortress are actively attacking your future encampment, get your blades and into the fight! After dealing with ogres there is no time to rest – there is another battle ahead. Orcs from Thunderlord clan are near, and they also have their clams for these lands – they wont withdraw before you.
If you have neither time nor desire to level your character and doing quests in World of Draenor – our team will be happy to do it for you. You can get all related information from our consultants in skype: boosting_pro or in live chat on our site https://boosting.pro. But remember! Warlords of Dreanor is close – order our needed service now!
[:ru]
Новые задания и награды WoW: Warlords of Draenor
Мир Draenor в World of Warcraft – очень дикий и опасный, требующий внимания и концентрации поэтому и награды в нем будут весомые. Среди большого множества классических заданий в краях Warlords of Draenor будут и задания основанные на исследованиях. Разработчики WoW решили внести немного азарта и интереса в иногда скучные и надоедливые задания – теперь получая награду за выполненное задание она может оказаться редкой или эпической.
Благодаря новому интерфейсу в WoW, можно будет с легкостью понять, какие задания являются частью сюжета и обязательны к выполнению, а какие являются дополнительными их можно отложить на потом.
Сторона, за которую вы воюете определит начальную локацию для прокачки в Warlords of Draenor. Если вы сражаете на стороне света – Альянс, то вас ожидает Карабор, Долина Призрачной Луны. А если же вы стоите на темной стороне и поднимаете свой топор за силы Орды, то ваш путь лежит в Крепость Камнерогов, Хребет Ледяного Огня.
Новые локации WoW: Warlords of Draenor
Свой путь в Warlords of Draenor обе фракции начнут неподалеку от лагеря противника, в Танаанский джунглях. Вам и вашим союзникам придется собрать все силы, что бы не дать Железной Орде пройти в Темный Портал, если им это удастся, то Азероту грозит гибель.
На вашем пути встанут такие великие боевые вожди, как Громмаш Адский Крик и Килрогг Мертвый Глаз. Их армии насчитывают десятки тысяч обученных орков, готовых в любой момент ринутся в бой. Но вы не одни! Армия бравых воинов под командованием знаменитого Мараада придет на помощь Альянсу из Темного Портала. А в союзниках Орды окажется сам Тралл и его до зубов вооруженная армия.
После того, как вам удастся не на долго закрыть Темный Портал, пути Альянса и Орды разойдутся, дальше каждый пойдет своей дорогой в поисках новых союзников для сражения с армией Железной Орды.
Карабор, Долина Призрачной Луны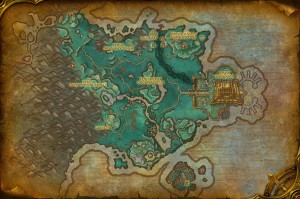 После того, как герои Альянса покончат с Темным Порталом им придется отправится в Крабор, что бы найти себе союзников для борьбы с Железной Ордой. Найдя себе союзников и искателей приключений вам придется защитить священный храм дренеев, что бы потом превратить его в безопасную крепость для Альянса. А в то время, пока вы будете защищать священный храм от нападения Железной Орды, Нерзул со своей армией орков из клана Призрачной Луны активно наступает с другой стороны, будьте на чеку! Любая ошибка может стоить целого мира!
Крепость Камнерогов, Хребет Ледяного Огня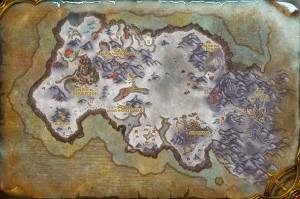 Величественной Орде так же придется сразиться с Темным Порталом. После его закрытия путь героев будет лежать к Хребту Ледяного Огня, где нужно будет заручиться поддержкой клана Северного Волка. Огры из крепости Камнерогов уже напали на ваше будущее убежище, хватайте топоры и в бой! Но сразив Огров и отстояв свои стены не расслабляйтесь, вас ожидает еще одна битва. Орки из клана Властителей грома уже близко, они так же претендуют на эти земли и не отступятся перед вами.
Если у вас нет желания или времени на прокачку и прохождение новых заданий в Warlord of Draenor, то наша команда сделает это за вас. Всю интересующую информацию вы можете получить у наших консультантов написав нам в  Skype: Boosting_Pro или в Live Chat на нашем сайте. Но помните, Warlords of Draenor уже близко, успейте заказать нужную вам услугу!
[:]