As everyone knows now, Battle for Azeroth PvP Season 1 is coming to an end on January 21. New PvP Season will start on January 22, as it was stated in a recent blog by developers. Here's few details posted by developers:
New BFA PvP Season 2 Features:
Change of Vicious Saddle acquisition. After you earn your Combatant mounts (filling up a bar for playing arena at 1400+ rating) – those mounts are Vicious Black Bonesteed for Horde and Vicious Black Warsaber for the Alliance – you can fill up the bar again and get Vicious Saddle boost each time you do so.
Conquest Weekly Reward change. You will be able to make a choice out of four options if the reward is Azerite armor; if it's not Azerite armor, weapon or trinket you will be able to choose out of two options.
Elite Bracket. When you earn 2400 rating in any bracket (2v2, 3v3, RBG) you get placed into Elite Bracket which rewards a class-unique title and a gladiator's tabard. As a result, you get Gladiator after winning 50 games in Elite Bracket.
How long will BFA PvP Season 2 last?
Blizzard has released a Conquest schedule for 25 weeks, so probably the new season will last 25 weeks – hinting July 16 as possible date of Season 2 ending and Season 3 start. Here's the schedule for PvP conquest rewards: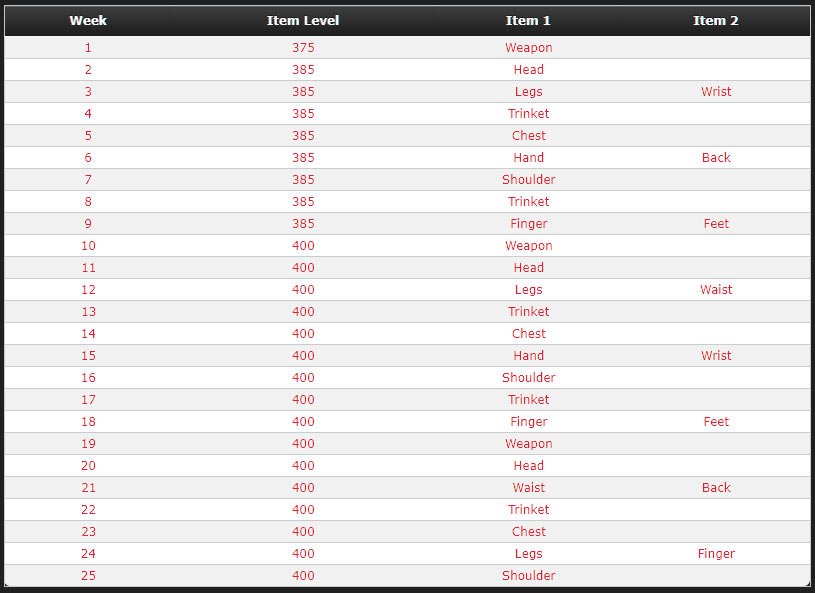 We will be providing boost services in WoW PvP in any bracket:
RBG rating boost;
PvP Mounts
PvP Coaching
Any PvP Achievements
You can always buy cheap arena boost and buy cheap rbg boost from us at reasonable prices and be sure in your account safety. You can also buy Gladiator and buy Hero of the Alliance and Hero of the Horde and not worry about a ban even on your main account – we have technology to avoid the ban in all cases and if it happens (we guarantee it won't!) will provide 100% refund to you – but you shouldn't use any other boosting providers for ranked Arena or RBG as they might be a result of dusqualification.[:ru]
Как все знают, 21 января закончится первый PvP сезон в Битве за Азерот. Новый PvP-сезон начнется 22 января, как заявили разработчики в недавнем блоге. Вот несколько деталей, опубликованных разработчиками:
Особенности 2 PvP сезона в Битве за Азерот:
Изменение получения Седла ярости. После того, как вы заработали свои боевые маунты (заполняя полоску, играя на арене с рейтингом 1400+) вы можете снова заполнять полоску и каждый раз получать Седло Ярости.
Изменение еженедельной награды за Очки Завоевания. Вы сможете сделать выбор из четырех вариантов, если наградой будет Азеритовая броня; если это не Азеритровая броня, оружие или тринкет, вы сможете выбрать один из двух вариантов.
Элитный брекет. Когда вы зарабатываете рейтинг 2400 в любом режиме (2 на 2, 3 на 3, РБГ), вы попадаете в Элитный брекет, который присуждает уникальный для класса титул и гербовую накидку гладиатора. В результате вы получите звание Гладиатора после 50 побед в Элитном брекете.
Как долго продлится 2-й сезон PvP в Битве за Азерот?
Blizzard выпустила график наград за Завоевание на 25 недель, так что, вероятно, новый сезон продлится 25 недель – поэтому мы рассчитываем на 16 июля в качестве возможной даты окончания второго сезона и начала третьего сезона. Вот график наград за Очки Завоевания: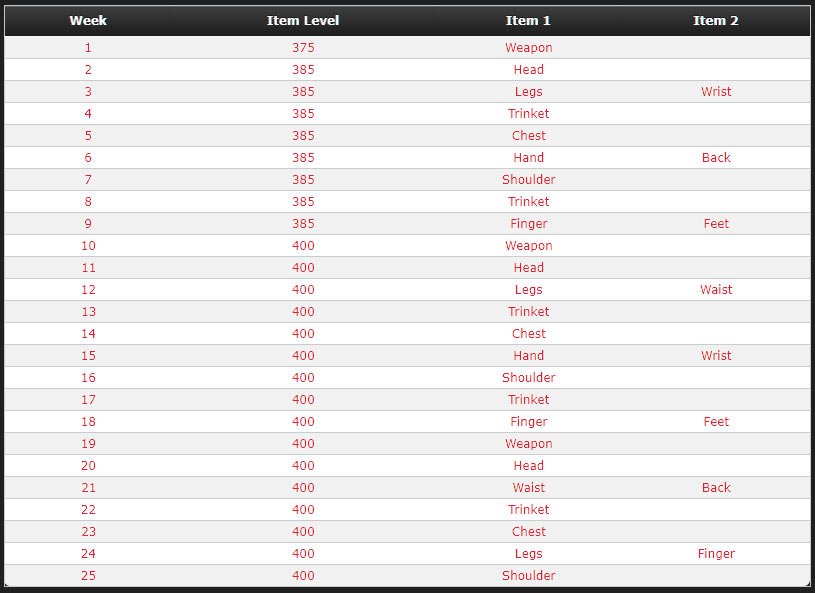 Мы как и всегда будем предоставлять для вас услуги прокачки в WoW PvP:
Прокачка РБГ рейтинга
PvP маунты
PvP Обучение
Любые PvP достижения
Вы всегда cможете купить прокачку арены и прокачку РБГ у нас по отличным ценам и быть уверенным в безопасности своего аккаунта и качественности выполняемых нами услуг. Вы также можете купить Гладиатора и купить Героя Альянса и Героя Орды и не беспокоиться о бане даже на вашем основном аккаунте – у нас есть новая технология, позволяющая избежать бана во всех случаях, и если это произойдет (мы гарантируем, что не произойдет! ) мы обеспечим вам 100% возврат средств – но вы не должны использовать никаких других провайдеров буста для ранговых арен или РБГ, поскольку они могут быть результатом дисквалификации.[:]