The genre of video games Battle Royale became one of the most popular in the world in a very short time and a huge amount of streamers and viewers on twitch.tv are the confirmation of this. Different game development companies are trying to release their own version of Battle Royale, in order to attract players and fans of this format of the game to their side. All projects are not much different – at the end of a large-scale battle only one champion should remain (although this may be a squad). However, not all Battle Royale games create a sense of completion. The pioneer, PUBG, is famous for its bugs, Fortnite changes greatly in each new season, which affects the balance, and many other games do not stand out much, in example CS GO Danger Zone is already completely lost among its competitors, but more recently a new Battle Royale game was released – Apex Legends.
Features of Apex Legends
Having quite suddenly appeared, Apex Legends Battle Royale gives rise to very different feelings. It has only one mode, but the game does not seem to be inferior compared to the rest. Apex Legends is not trying to copyabsolutely all the elements of Battle Royale that are popular today at the same time . On the contrary, this game adds its own features and does it quite well. The main element of the gameplay in Apex Legends – team interaction. This approach is not new, but it is not implemented as well in any BR game as in Apex Legends. Here the match begins with the landing of 20 groups of 3 people on the island. The rules are the same as in other team Battle Royale. But at the same time, players not only cover each other's backs. All elements of the interaction are well thought out and integrated into the game, starting with the message system and ending with the special abilities of the characters. Being a lone warrior in Apex Legends is almost impossible, you must fulfill your role in the squad.
Characters and abilities
The most significant difference between Apex Legends and other Battle Royales that are popular today is the unique character system for such a game format, each character has unique abilities. Quite an interesting innovation, borrowed, most likely, from the famous Blizzard FPS game – Overwatch. At the moment, you can choose one of eight characters. There can not be two identical characters in the squad at the same time. Each character has three unique abilities. One of them is "Ult" – a strong, but long rechargeable ability, the correct use of which can completely change the outcome of the battle. For example, Gibraltar specializes in defense and can create a protective shield, like Winston from Overwatch, and a shield for himself like Brigitte. And his superpower is bombing a rather impressive area of ​​the map, which forces an enemy unit to completely change its position. On the contrary, Wraith specializes in fast moving around the map, she can create portals, like Symmetra, or move in another dimension, thus becoming almost invisible for some time. Robot Pathfinder is a support character. He has a special device for throwing a hook with a cable that allows you to climb buildings or rocks. The new way of the Pathfinder cable, again, can be used by other players in the team. Mirage confuses opponents with the help of holographic baits, can quickly disappear from their sight, analoguing Tracer from Overwatch. In Apex Legends it is worth playing each character to understand their abilities and choose the ideal option for yourself.
Simplified interaction with inventory
Also notable feature of Apex Legends is that it is very friendly to learn for new players. In any Battle Royale arena, the player comes across a lot of items that need to be sorted, activated, transferred to friends, unnecessary – throwing away, etc. Pretty boring part of the gameplay. In Apex Legends, all this is implemented in such a way that the player does not spend extra time on inventory. The game can be customized so that new items will be activated automatically and only more valuable weapons / armor / modifications will be selected. For example, an improved scope is immediately attached to the corresponding weapon. But nothing changes if the upgrade that the player uses is better than what he just found. The value of items in Apex Legends is easy to identify from afar. They are color-coded, the most valuable are the yellow – "legendary" objects, followed by the "epic" – purple, blue, green, and the weakest objects are gray.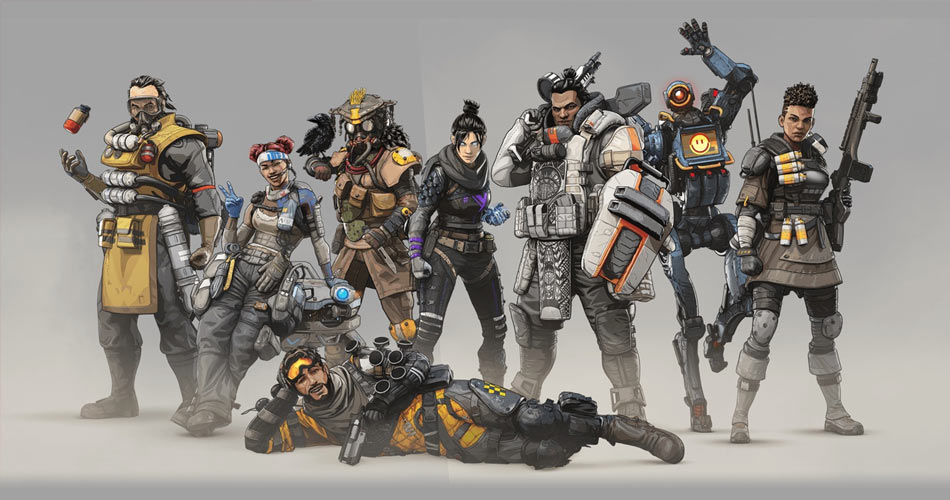 Interaction between players
The most interesting feature of Apex Legends is the ping system inside your squad. It allows you to quickly interact with teammates even without a microphone or chat messages. All that is required is to hover on the screen at the desired object with a scope and select it with a marker that will appear on the screens of other members of the squad. Similarly, you can select weapons, armor and other items, points on the map, the positions of enemies and so on. Such a system favorably complements the voice interaction between teammates and greatly simplifies coordination in your squad.
Revival on the battlefield
The revival system also distinguishes Apex Legends from other royal battles. If a player's character was killed in battle, he can pass a revival banner to one of his comrades. Loot can also temporarily be picked up by members of the squad. Revival is possible only in certain points on the map – near the revival beacons. It turns out that in Apex Legends everyone has a chance to return to the game after death. This in turn allows players to use strategies that are not feasible in other Battle Royale games. For example, one of the players sacrifices himself in order to maximally weaken the enemy squad. After the battle, he will be able to return to service. While the player is waiting for a rebirth, he is watching the game from the point of view of his teammates.
Weapons in Apex Legends
As in past Respawn games, in Apex Legends you often have to shoot, and the process itself is pretty enjoyable. New game features an impressive arsenal of weapons. At the same time, in the fantasy world of Apex there is even an energy weapon, for example, one of the sniper rifles and a machine gun. Design tools for the destruction of opponents are thoughtful and interesting. The player in the process of earning experience and levels can receive new skins for weapons.
All weapons in Apex Legends can be divided into six types:
Pistols
Submachine guns
Shotguns
Machine guns
Assault rifles
Sniper rifles
Also in Apex Legends there are several types of ammunition and it is very important to understand what kind of ammunition your weapon uses, for example: not all SMGs and pistols are firing with light ammunition, and sniper rifles do not only use heavy cartridges. In general, the case of ammunition for weapons is very relevant in the game and you need to constantly restrain yourself and not shoot extra ammo, since the ammo in some moments of the match can be quite scarce (another reason why it is advisable to play in Apex as a team that was preassembled rather than alone) .
Table of Apex Legends weapons with the characteristics and types of cartridges: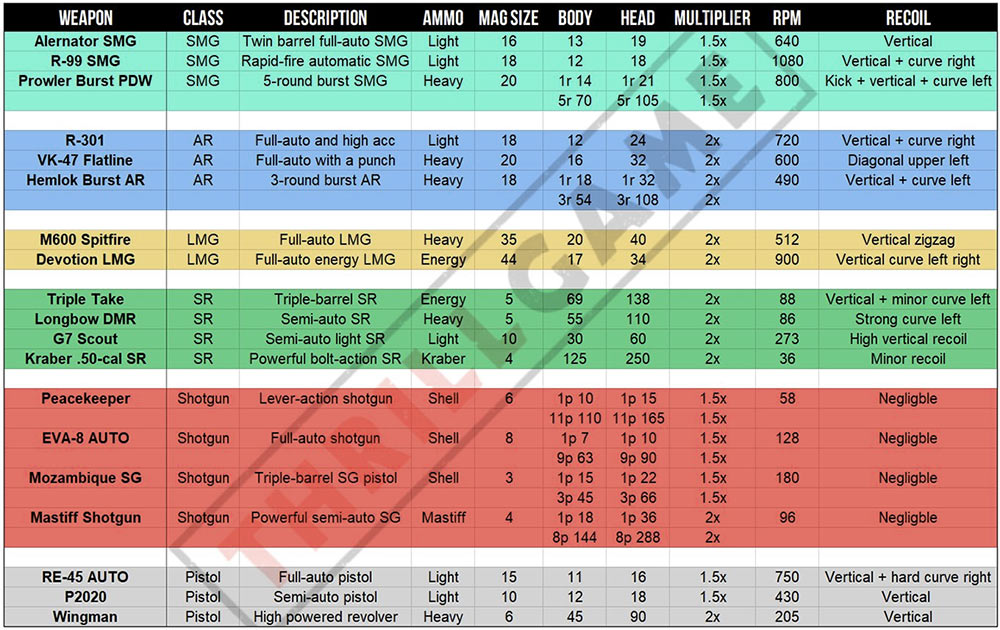 Free-to-play
Apex Legends is a free game that already makes it more accessible to many players. As in Fortnite, you can buy in-game items for real money. It is also possible to upgrade the level and get free lootboxes and unlock two additional characters. All items from the store only play a cosmetic role and do not affect the gameplay. That is, for someone who puts only the competitive component in the first place, and not the appearance of the characters and weapons, the game remains completely free.
Boost in Apex Legends game
Boosting in Apex Legends will focus mainly on leveling your account, as well as getting ingame currency. In addition, the game has a large number of achievements that will highlight your character among other players.
We are ready to offer you almost all possible types of boosting in the game: