So, the release date of the new WoW patch 8.2 "Rise of Azshara" became known – the start on US servers is on June 25 and the rest of servers on June 26. In this article we have collected for you detailed information about the new features of the upcoming update. In patch 8.2, two new locations will be added: Nazjatar and Mechagon, a new raid the Eternal Palace of Azshara, heirloom armor for gnomes and tauren, flights in BFA, 3rd PvP season of BFA and much more.
Who is the Queen of Azshara?
A new patch that will be released is called "The Rise of Azshara" or patch 8.2, but who is Queen Azshara? Not all players are interested in lore of WoW or play more recently, so we want to talk a little about the main character of the upcoming update. Azshara – the once beautiful queen who ruled the night elves, the Kaldorei and the highborne, who worshiped her. Azshara has always been a significant figure in the history of Azeroth. But afterwards the Legion invaded Azeroth and unleashed a war, during which Kalimdor split into pieces. Because of this split, many inhabitants of those lands perished, but Azshara was able to survive and for the sake of saving her people entered into an agreement with the Ancient God N'Zoth, turning herself and the Highborne into Nagas. Queen Azshara has changed outwardly, but she has remained the same arrogant and domineering, now she rules the ocean and still wants to cleanse the world from representatives of the "lower" races.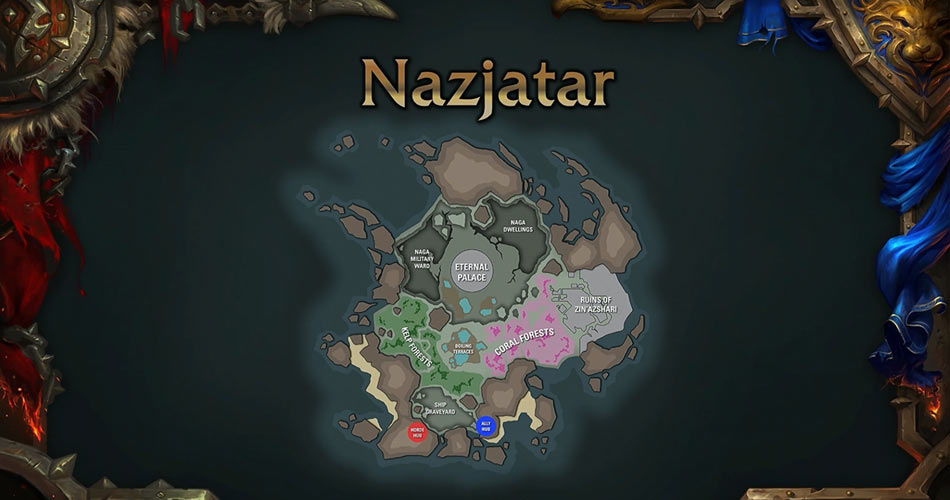 Nazjatar Location
The introduction of the new patch begins with the fact that the Queen of Azshara decides to raise Nazjatar from the depths of the sea – one of the new locations in which the main patch events will take place. Having found the secret paths through the waterfalls, players will have to rebuild their base in the territory of the Naga. In Nazjatar, players will meet new allies. Nazjatar's main content will revolve around helping allies to suppress the Naga. Alliance players will help the Ankoan race, and Horde players will help the Unshackled race.
In Nazjatar, a large number of different quest chains await players, one of which will lead to the Queen Azshara in a new raid dungeon. For completing the adventure in Nazjatar, players will receive a new mount (a seahorse crossed with a unicorn, and a crab that can walk sideways), as well as a pet (baby naga). In this location you will be able to select and level one of the three followers. Thus, the developers decided to make a little variety in the gameplay, by leveling your follower, you will get some rewards and get to know his story.
Raid Eternal Palace of Azshara
Raid The Eternal Palace of Azshara will be the main raid of patch 8.2. and it is not difficult to guess it is in the Nazjatar location. In the raid there will be eight bosses, including the final – Queen Azshara. In the raid dungeon, the Eternal Palace of Azshara will have one underwater boss with interesting mechanics. Armor, weapons and other loot will look Naga style and canonically fit into Nazjatar lore. The release date of the normal and heroic difficulty is set for July 9 (America) and July 10 (other regions),
Mythic mode and 1st wing of LFR on July 16 and 17
2nd wing of LFR on July 30 and 31
3rd wing of LFR 13 and August 14th.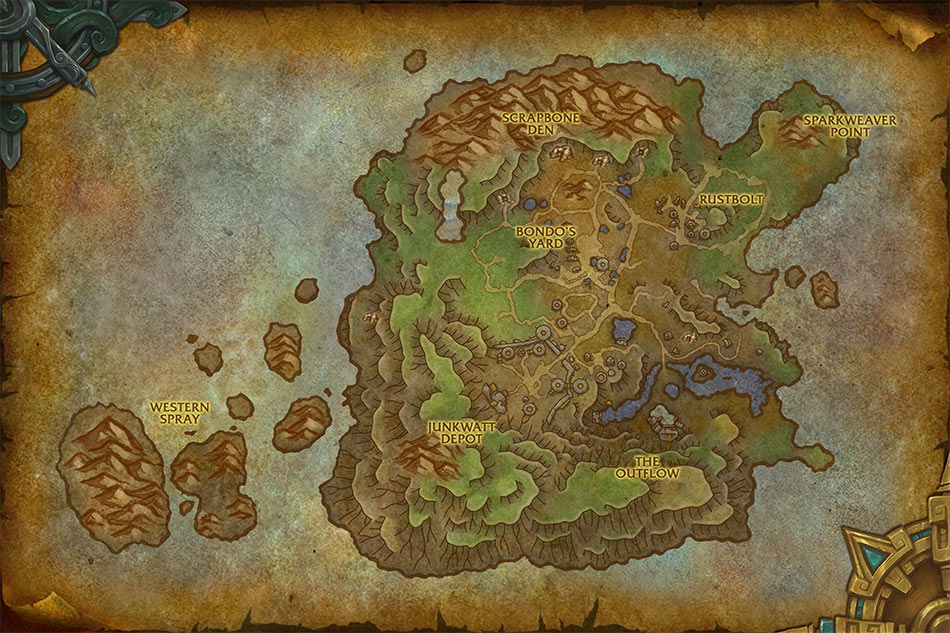 Mechagon Location
Mechagon is the second location of patch 8.2. as you can guess from the name of the location Meсhagon – this is the place where many engineers gather and the gnome-goblin theme is taken as the basis of this location. Gnomeregan fans have long been waiting for the development of this trend. Starting adventures in Mechagon begin in the small town "Rusted vault". Players arriving here will help the locals fight the King Mechagon, who decided to create an empire of robots to bring all living beings into them. And to help in this, various spare parts and mechanisms scattered throughout the Mechagon will be assembled, which can be assembled using engineering devices. In Mechagon, players will encounter a new quest system "Visitor System" – new themed NPCs with unique quests and rewards will appear on the site every day.
Mechagon is littered with new rare monsters (warriors) who will have different respawn times. Rewards for killing some warriors will be very valuable, so we advise you not to miss any. You will be able to get a new unique trinket "Pocket-Sized Computational Device" with three empty sockets into which special Punchcards are inserted. Punchcards allow players to choose the properties for the trinket.
Dungeon  "Operation Mechagon"
In the Mechagon location there is a new mega dungeon – "Operation Mechagon" and it is similar to Karazhan from the Legion. The Operation Mechagon dungeon consists of two blocks and eight bosses, the final of which will be King Mechagon himself, who wants to turn all life into robots. A little later, the dungeon will be available for the completion with the Mythic+ key, and at first "Operation Mechagon" will have only the mythic mode. Rumor has it that in the Mechagon dungeon there will be unique rewards that will force players to return to it again and again!
Island Expeditions
Many players liked Island Expeditions, so patch 8.2 will please the players with two new ones. Crossfall is a well-known location for many players in the plot of Warcraft II. There, in an attempt to warn his father about the attack of the orcs, Derek Proudmoore died. The Snow Flower is a Pandaren island that is inhabited by pests like the Valley of the Four Winds. Quests related to items from expeditions (Tell Me A Tale) will be continued.
Warfronts
In patch 8.2, heroic warfronts will appear in the game. Heroic mode will have an increased level of difficulty and, accordingly, improved rewards. In the heroic warfronts 1-20 players will be able to participate, and the battle itself can be lost.
Third BFA PvP season
In "Rise of Azshara" patch there was added a new arena – Mechagon. New PvP mount for the 3rd BFA PvP season of BFA is Basilisk. The mount will be one for both factions, but in different armor: in red for Horde players and in blue for Alliance players. Beginning of the start of the 3rd PvP season of the BFA is July 16 (America) and July 17 (other regions).
Flights in the Battle of Azeroth
Patch "Rise of Azshara" will delight us by introducing the achievement Battle for Azeroth Pathfinder, part two. And this means that Flights will finally be available at BFA! We know that the Pathfinder achievement will allow players to fly in the territories of Kul-Tiras and Zandalar, but it is said that flights will be available on Nazjatar and Mechagon.

As you can see patch 8.2 "Rise of Azshara" will bring players a large amount of new content. But that's not all. You will also find a large number of mounts, about which we will make a separate article. Lots of interesting quests, new items, pets, and a new currency Prismatic Manapearl. We hope that our article was useful and interesting for you.
But do not forget, if for some reason you cannot get what you want in World of Warcraft, then you can always contact us for help. In Rise of Azshara patch, we provide such services as reputation boost, mount farming, doing the Raid Eternal Palace of Azshara in normal, heroic and mythic modes, doing the Operation Mechagon dungeon, we will do BFA Flying and much more. Best of luck in mastering new content!