The Journey to Un'goro is a new addition to card game Heartstone which will come out on April 30, 2017.
Many players were already tired of standard metas also packs, old cards have become boring and even the last adventure has recovered players not on long. Addition the Journey to Un'goro includes 135 new cards, and a part of old will be remade. Such number of cards will allow players to enjoy new packs, and innovations "Adapt" and "Quest" will strongly change mechanics of a current game. In Un'goro's addon you are expected:
New beings – Elementals;
New animals – Dinosaurs;
New game mechanic – Adapt;
New game mechanic – Quest;
New game field;
Shirt for cards.
Elementals.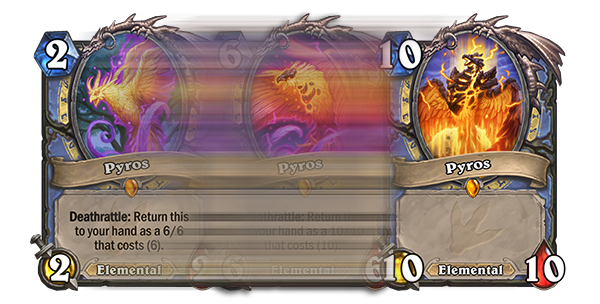 Elementals – new beings in Heartstone feeding on power of elements. Accumulating in itself ancient forces they can regenerate at the same time becoming more and stronger. Cards elementaly are similar to cards of murlok, animals or dragons, they can interact with each other strengthening your pack. Some of the old HS cards will join to Elementals too.
Adapt.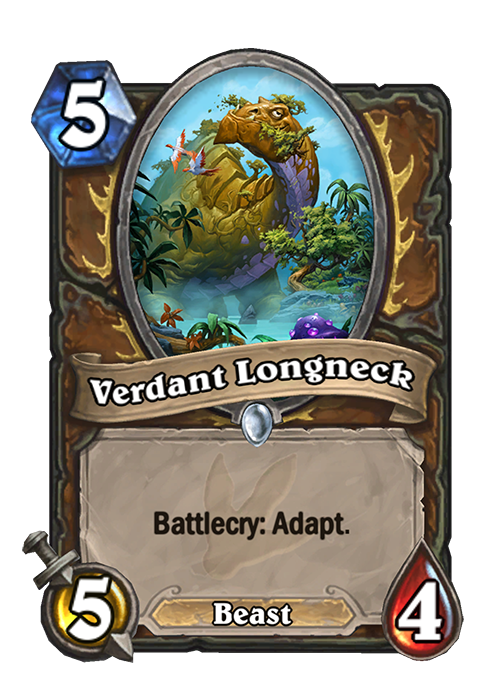 Some cards, for example "Green long-necked" – is the Animals card. But this card has new property in Heartstone – "Adapt".
Adapt mechanic allows to buff new abilities on your creatures . Playing the card with this property, you will need to choose one of three offered strengthening options (very much reminds "Excavation") and the being will be received at once by the chosen bonus. Types of "Adapt" ten pieces, for example: Divine board; Provocation; +3 to attack; Can't be target of spells or hero power; Fury of wind and others.
Quest.
You like to use secrets? Now you will have new similar cards – Quest. As well as secrets, cards of the Qest are hung up on the hero's portrait, but the opponent will be able to watch a stage of their performance. All Quest cards – legendary. Therefore you will be able to add only one card of this kind to a pack and it is correct, their bonuses are simply huge, but also it is not so that simple to receive these bonuses – on each card will be written Quest conditions. Feature of these cards is that the card added to you to a pack always comes to you to a hand at the beginning of the game. Here the card from the priest's pack "Awakening of creators", having completed Quest of it you will receive the Amar, Warden of Hope card. Here it is the hidden power of Un'goro!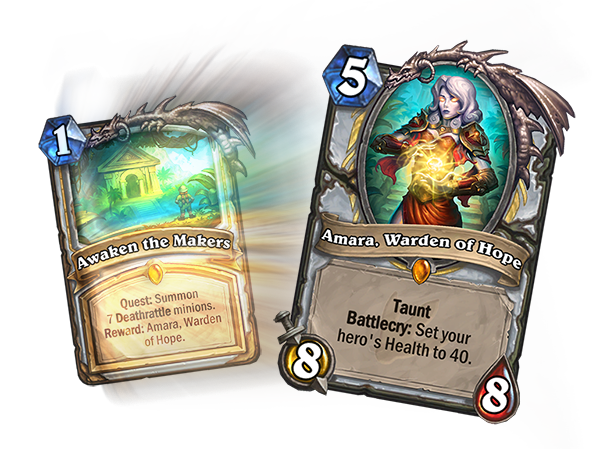 Elise Starseeker with the research team have already packed backpacks with all necessary that will move off in searches for new archeological finds. Hurry up also you! On travel according to Un'goro you will meet a set of new beings, you will open new spells, and you can be also among pioneers of the forgotten mysteries of the past that are hidden in the mysterious jungle.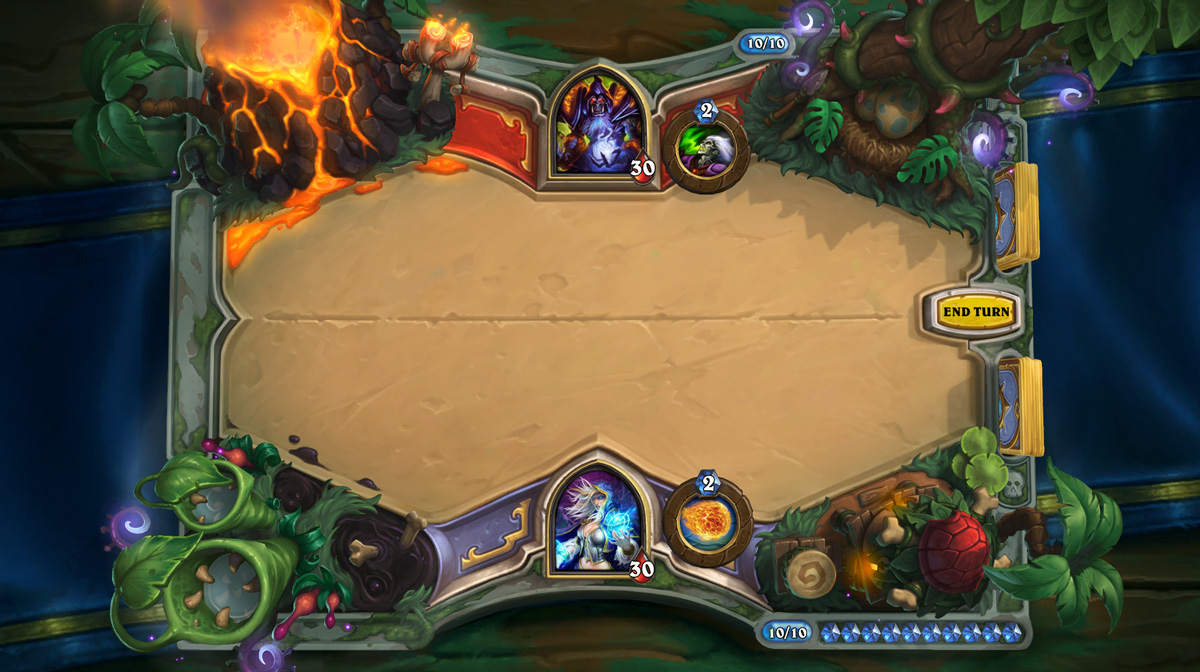 [:ru]Экспедиция в Ун'Горо – это новое дополнение к карточной игре Heartstone, которое выйдет 30 апреля 2017 года.
Многие игроки уже устали от стандартных мет и колод, приелись старые карты и даже последнее приключение оживило игроков не на долго. Дополнение Экспедиция в Ун'Горо включает в себя 135 новых карт, а часть старых будет переделана. Такое количество карт позволит игрокам насладиться новыми колодами, а нововведения "Адаптация" и "Задачи" сильно изменят механику нынешней игры. В дополнении Ун'Горо вас ожидают:
Новые существа – Элементали;
Новые животные – Динозавры;
Свойство – Адаптация;
Задачи;
Игровое поле;
Рубашка для карт.
Элементали.
Элементали – новые существа в Heartstone питающиеся мощью стихий. Накапливая в себе древние силы они могут перерождаться при этом становясь все сильней. Карты элементалей похожи на карты мурлоков, зверей или драконов, они могут взаимодействовать друг с другом усиливая вашу колоду. Некоторые из старых карт HS присоединятся к элементалям.
Адаптация.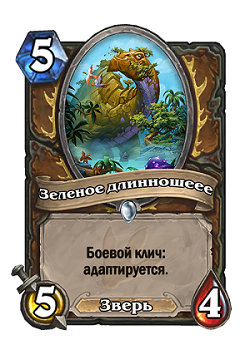 Некоторые карты, например "Зеленое длинношеее" – является картой типа Звери. Но эта карта обладает новым свойством в Heartstone – "Адаптация".
Свойство "Адаптация" позволяет существам открывать новые способности. Разыгрывая карту с этим свойством , вам нужно будет выбрать один из трех предложенных вариантов усиления (очень напоминает "Раскопки") и существо сразу получит выбранный бонус. Видов "Адаптации" десять штук, например: Божественный щит; Провокация; +3 к атаке; Не может быть целью заклинаний или силы героя; Неистовство ветра и другие.
Задачи.
Любите использовать секреты? Теперь у вас появятся новые похожие карты – Задачи. Как и секреты, карты Задачи вешаются на портрет героя, но противник сможет следить за этапом их выполнения. Все карты Задач – легендарные. Поэтому в колоду вы сможете добавить только одну карту такого типа и это правильно, ведь их бонусы просто огромны, но и получить эти бонусы не так то просто – на каждой карте будут написаны условия выполнения задачи. Особенностью данных карт является то, что карта добавленная к вам в колоду всегда приходит вам в руку в начале игры. А вот и карта из колоды жреца "Пробуждение творцов", выполнив задания которой вы получите карту "Хранитель Амара". Вот она скрытая мощь Ун'Горо!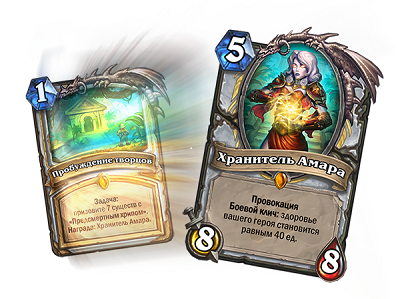 Элиза Звездочет со своей исследовательской командой уже собрали рюкзаки со всем необходимым, чтобы отправится на поиски новых археологических находок. Поторопись и ты! Ведь в путешествиях по Ун'Горо вы встретите множество новых существ, откроете новые заклинания, а так же можете попасть в число первооткрывателей забытых тайн прошлого, что сокрыты в таинственных джунглях.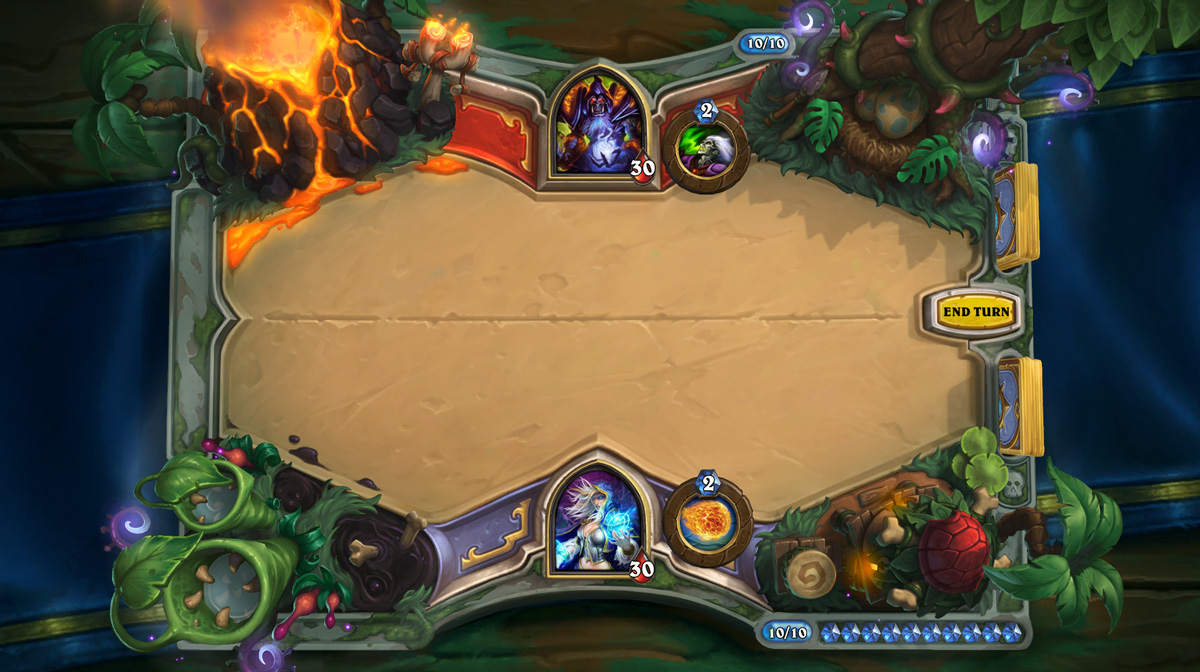 [:]